Squirming baby
YEAY!
The Son finally decided to play with his teether. At least 3/4 of the way. And that is such a huge improvement. The thing with this firstborn of mine is that he absolutely dislike teethers. Well, maybe the first 10 minutes upon getting it brand new lah. Upon realising that the teether aint' as cool as daddy's Astro remote, or daddy's handphone or even his own hand he'll quickly discard it in search of a cooler items.
Of some significance is his continuous amazement of his 2 hands and how it taste. Without fail either one hand or the other will be in the mouth. Even when he was "forced" to play with the teether the smart bloke would pretend putting the teether on his mouth while in actuality he is sucking his thumb/hand that is holding the teether. Well, I'm 2 steps ahead of you buddy!
So yes he squirm and did his darndest to get out of the baby's seat but that as bad as usual since he got his hand on his teether. He actually really really try to shove the entire thing in his mouth. With groans, shouts and what not he did try. Suddenly I heard the boy's choking. ugh! the teether is like half way down his throat. Horror! So have to watch what he did with the teether and I'm glad to announce that there's only 3 times of such a "choking" happened.
not too bad eh?
Then some 1/4 of the way he starts throwing the teether around and make noises. Squirming here and there and wrestling between an unhappy boy and driving aint easy. So this that this that, gave him the milk to drink and Voila! eyes droopy and he doze off. But not before shaking his head stevie wonder style trying to shake off his sleepyness. The boy just refuse to sleep. Finally I'm at home. Carry him in the babyseat and put him on his mat.
After a few more tussle here and there he finally gave up. The result as per below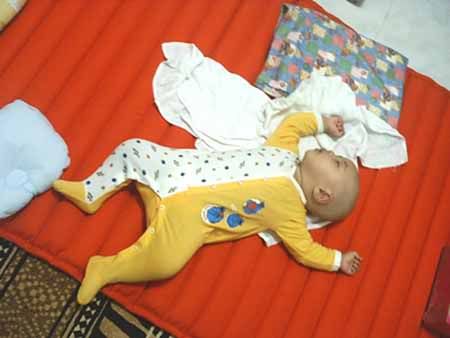 Best imitiation of "Mereka yang kecundang" IMHO. :D