Phones and I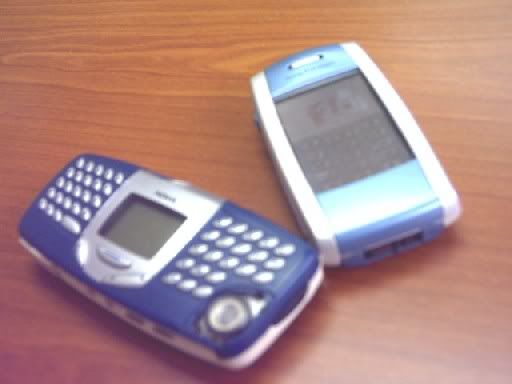 Cell phone that is.

i recently bought a used cellphone quite a cool one at that. A sony P800 and definitely a hugeeeee improvement over my previous phone the nokia 5510. Well I love the Nokia. It is the first Nokia with MP3, radio and definitely a QWERTY keyboard. I love it to pieces.

Love it so much that even when it fell and cracked bad I actually took the pain of glueing its parts (casing and all) together and continue using it. Though its kinda tricky when there's no speaker cover and the odds of your ears got scratched by the uneven cracked casing is pretty high. Even when I was chased by a group of stupid dogs the phone is the one that I first grab before running for my life!

Yeah it is hugeee but you can throw it at a dog and be sure that it can kill one. And pls don't be stupid and throw at a group of dogs, you might hit one but the others will kill you!

Thus there is this 1 fine day when I can't really talk on the phone anymore as it kept having this "software glitches". Thus I changed to my current Sony Ericsson P800.

boy oh boy! a PDA phone! YEAY!! but with a catch. I bought it second hand for a song but with no flip/keypad. Later I went to Sg Wang to buy the flip/keypad but I was told that it comes together with the casing. Agreed to it and the next I know I got a new casing but with no flip/keypad. duh! got conned by the farker.

from that day onwards talking on the phone has always been like a gamble. Sometimes you can hear me sometimes you don't. Just like a chipsmore

"kejap ada, kejap takde"

. Apparently the mic's busted.

The other day my

brother/boss/partner/everything-else-in-between

tried to call me for some urgent discussion/instruction. You see I recently undertake an extra job where time is such a hugeeeee factor. My

brother/boss/partner/everything-else-in-between

called me a around 7 to 8 times failing to talk to me. He was sooooo irritated that he give me an order.

"shook me, do some withdrawals from the fund and go and buy yourself a new hp"

huh?


YIPPEEEEEEEEEEEEEEEEEEEEEE!!!!!!!!!